Some time ago, Minecraft made a small comeback at the Nintendo Switch. We're talking about the Bedrock Edition, including the update Aquatic and Better Together. What does that mean exactly? So many changes that the review of the previous Minecraft version, Nintendo Switch Edition, has been dropped along with the game. Especially since the old version is no longer for sale anyway, although it is still available to owners. In this case you can download the current title from Mojang and 4J Studios completely free of charge, otherwise it usually costs around 30€. Minecraft aficionados who are only interested in the features of the new version based on the Bedrock Engine may jump directly to the second half of the review.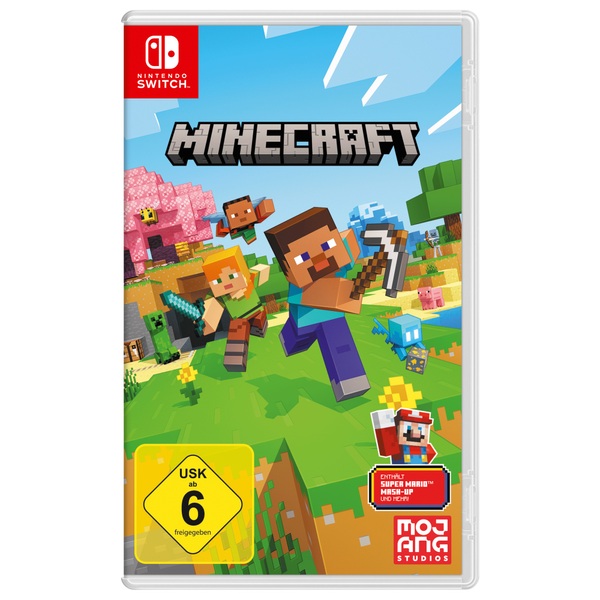 Let's start over again…
I've explained it many times in previous reviews of Minecraft and its inspired, unofficial spin-offs, but there's a first time for everyone, right? Minecraft throws you into a randomly generated world of pixels and voxels. This means that your entire environment is made up of cube-shaped blocks. Your possessions? Absolutely nothing. Except maybe a map. You'll also need it for orientation, as it contains coordinates depending on your settings. Your primary goal is to survive. To do this, you will need to build a safe house and secure a food source. How you do this is up to you. Nearly every block can be removed by hand or with the right tools. Collect some wood, make boards from it, build a workbench and a first set of wooden tools. Now you're ready to start! Collect and process materials and create your own buildings, just like in your LEGO age!
Your environment holds various types of resources. It's best to start looking at the food supply early on. Wild animals offer a good start, but farming and animal husbandry will be essential in the future. Your weapons and tools will also wear out with each use – until they break. What you and the game live on is technical progress! Items made from higher quality materials work more efficiently and are more durable. The levels range from wood to stone, to iron, (followed by gold if you think it is necessary despite its underground durability) to diamond. These and other minerals are understandably found mainly to exclusively underground, be it caves, mines or through so-called shaft/strip mining. Exceptions confirm the rule. Enchantments are another way to increase the performance of your items. But don't get too excited, as enchantment tables are already part of the more advanced equipment and can't be done in 15 minutes.
In Minecraft, time goes by fast. A day-night cycle with a total duration of 20 minutes makes it clear. Especially the night should not be despised. During the day it is usually peaceful on the surface, but at night monsters appear and try to get at you. In addition to classic zombies, ranged skeletons or climbing spiders, you're probably familiar with Minecraft's trademark: the Creeper. And should this name seem strange to you, I can assure you that you will remember your first encounter with him for a long time. So what does the night mean to you? Make sure you are properly equipped or retire to your safe house. I hope you have illuminated this well, otherwise it might not be of much use to you…
Griefer – The ultimate nightmare of every creative mind.
Of course, the game wants you to be able to share your adventure, which even extends to other dimensions, with friends. A split screen is possible with a second player, but online or via local multiplayer, up to eight players can take part. And you don't have to rely on mere survival. The Creative Mode allows you to avoid all dangers and – surprise – let your creativity run wild. The inventory is adjusted accordingly, so that all blocks and objects can be summoned with just one click. The ability to fly makes building much easier.