With the incredible number of 1 billion downloads, Angry Birds is the most successful download game of all time.
After a lot of offshoots with more or less new levels and game ideas it's time for something new.
In Bad Piggies the tide has turned and the pigs are the heroes. If the sequel has what it takes to take on Angry Birds, you can read in our iPNB-Game-Review…
Let's get one thing straight. With Big Piggies, the Finnish developers Rovio stick to what they can do. Following the motto "Cobbler, stick to your last", nothing changes in the graphics engine, nothing changes in the game physics and nothing changes in the genre. Big Piggies is a physical puzzler just like its predecessor.
Nevertheless Big Piggies offers a completely new game experience. At the beginning of each level you get different parts, like wheels, wooden parts, propellers, balloons, bottles, etc. which you can use on a given grid. This way you can build the required vehicle for each level. With the help of the resulting buttons you control your vehicle. For example, with the right timing you have to activate fans on your vehicle to accelerate and brake.
Sounds easy? Don't get too excited, because the possibilities are endless and as a player you will (as in Angry Birds) regularly reach your limits.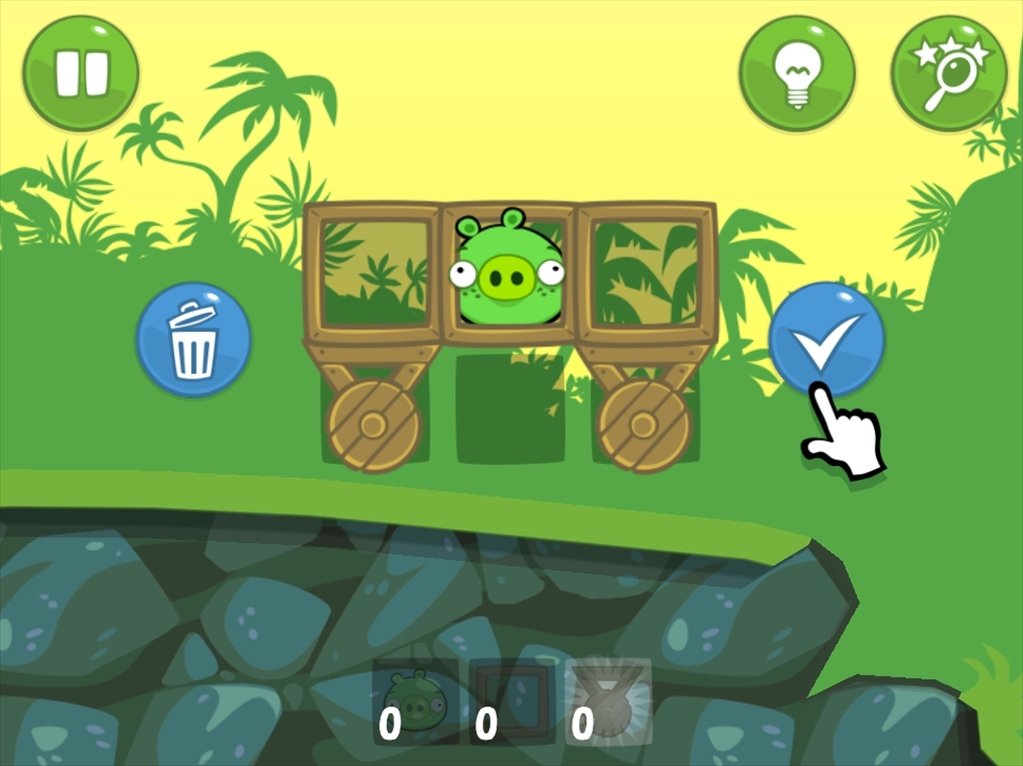 It gets even more difficult if you want to reach the three level goals that are extra in each level. For example, you have to do without certain components, beat a time limit or catch certain items on the way. For each goal, you'll have to design your vehicle differently, which makes Bad Piggies much more complex than Angry Birds, and clearly increases the replay value.
Overall, Bad Piggies feels more intense and mature than its predecessor and is at least as much fun to play. In Angry Birds you always had the feeling that you could master the levels with a little bit of luck, but now it's always up to you whether a level goal is reached or not. So the gamer's brain is challenged much more and the game feeling is completely different.
However, it has to be said that Bad Piggies is more aimed at experienced players due to this new playing technique. Casual gamers who had guaranteed a sense of achievement even during a short game of Angry Birds will find it more difficult to gain access here.
So you have to get involved with Bad Piggies and take more time to play. Then you will also get a corresponding equivalent value. With currently 100 levels, which have to or can be solved in 4 different ways, the scope is enormous. For a fair €0.79 you will hardly find long-term motivation.
A small drop of bitterness on the side: Rovio also wants to earn more money. Bad Piggies also offers the "Rent-a-Mechanic" option, which helps you solve individual levels. While Angry Birds required a one-time payment, Bad Piggies only allows you to buy packages that require you to dig deep into your pockets.
Despite identical graphics and visuals, Bad Piggies has become a completely independent game. For the sequel, Rovio went the logical way and gave the game more depth and sophistication. This makes Bad Piggies a better game.
It remains to be seen whether the game can continue its enormous success, whether the higher difficulty level and the turning away from casual players as target audience.
Nevertheless there is a clear recommendation to buy for Big Piggies!